Lake Mburo National Park is a very special place; every part of it is alive with variety, interest, and color. It contains an extensive area of wetland and also harbors several species of mammals and birds found nowhere else in Uganda.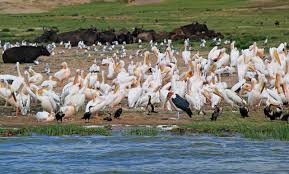 Lake Mburo National Park is a very special place; every part of it is alive with variety, interest, and color. It contains an extensive area of wetland and also harbors several species of mammals and birds found nowhere else in Uganda. Its sculptured landscape, with rolling hills and idyllic lake shores, has a varied mosaic of habitats; forest galleries, seasonal and permanent swamps, rich acacia-woodland, and grassy valleys which all support a wealth of wildlife.
At 370 square km, Lake Mburo National Park is small in comparison with many other East African parks, but with its rich variety of habitats; dry hillsides, rocky outcrops, bushy thickets, open and wooded savannah, forest, lakes, and swamps, it is home to a surprising diversity of plants and animals.
Lake Mburo is the only park in Uganda with Eland, impala, and Klipspringer. It is also home to the largest population of zebra in Uganda estimated at about 5,000 and probably contains the highest concentration of leopard found anywhere in Uganda. Buffalo, waterbuck, topi, and warthog are also very common. Reedbuck and Oribi can also be spotted in the open valleys. Hyenas, genet, bush pigs, and white-tailed mongooses are often seen on night game drives.
At the center of the Park is Lake Mburo, which together with 14 other lakes in the area, forms part of a wetland system. This system is linked by a swamp some 50 km long, fed by the Ruizi River on the western side. Five lakes, of which the largest is Lake Mburo, occur within the Park's boundary.
Almost a fifth of the Park's area consists of wetlands – both seasonally flooded and permanent swamps. The various types of swamps are home to a wide variety of wetland birds, as well as the shy, rare sitatunga antelope. Lake Mburo's surface and its fringing vegetation are always changing, and it is delightful to take a boat out and experience the lake's moods and watch the numerous hippos, some crocs, and an incredible amount of African fish eagles. The lake is also one of the best places to spot the rarely seen African finfoot and white-backed heron amongst many other water birds.
CLIMATE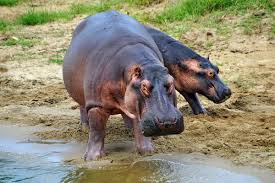 Lake Mburo National Park lies in a rain shadow between Lake Victoria and the Rwenzori Mountains and receives an average of 800 mm of rain a year. Being near the equator, the rainfall pattern is bimodal, with the long rains occurring from March to June, and the short rains from September to December.
The rains are rather erratic and unpredictable, but most rain tends to fall in April and November. The best time to visit the park is actually the beginning of the rainy season in March or September. The average recorded temperature is 26° C with daily variations ranging from 14° C to 32° C. July and August are the hottest months, but December and January can also be very hot.
In the evenings or on a rainy day it can get quite chilly no matter which time of the year it is and on a sunny day it will always be hot and feel even hotter in the rainy season because of the increased humidity. Generally, Lake Mburo has nearly the perfect climate with warm, but not over hot days and slightly colder nights.
TOPOGRAPHY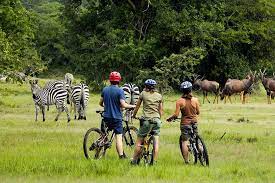 The Park lies between 1219m and 1828m above sea level. High hills and rocky, eroded ridges characterize the western part of the Park; here deep valleys support the forest found nowhere else. In the eastern sector, the rolling, wooded hills are intersected by wide, flat-bottomed valleys, which are seasonally flooded and drain into the swamps and lakes. The Ruizi River flows in a south-easterly direction and forms part of the western boundary of the Park. Lake Mburo and its associated wetlands eventually drain into Lake Victoria.
GEOLOGY
The Park is underlain by very ancient (more than 500 million years old) Precambrian metamorphic rocks which belong to the 'basement system'. Mihingo Lodge is built on one of these outcrops. Most of the soils in Lake Mburo are heavy clay and loam soils. Although surrounded by lakes there is hardly any groundwater in Lake Mburo National Park owing to the deep clay soils preventing any water from entering deep into the ground wildlife  &
Lake Mburo National Park is the best place in Uganda to see klipspringers only living on rocky outcrops and are often seen at Mihingo Lodge. Also, plains game like zebra and vast amounts of impala and eland can often be found in Lake Mburo National Park, but nowhere else in Uganda. Lake Mburo is also home to more commonly seen species like waterbuck, topi, warthog, bushbuck, reedbuck, oribi, vervet monkey, baboon, and many types of mongoose.
According to our records Lake, Mburo might have the highest leopard concentration ever recorded, due to its perfect leopard habitat and thousands of impala which are leopards' favorite prey in Mburo. Leopards are mostly seen on night game drives together with the very widespread, but rarely seen bushpig and hyenas. Nightgame drives also reveal the small jennet cats and white tales mongoose.
Encountering buffalo on walking safaris or horse rides is one of the most exciting experiences you can have on a safari.
Lake Mburo is now also home to 15 endangered Rothschild's giraffes, which were introduced in July 2015. It is exhilarating encountering them on one of our horse safaris.
Another special animal at Mihingo Lodge is the bushbabies (longtailed galago) which come nearly every night to the bushbaby platform below the bar area. This is one of the only places in Africa to see this very shy nocturnal primate close-up.
The large variety of habitats in Lake Mburo National Park supports over 350 bird species including rare, but regularly seen species like African finfoot and white-backed heron. If you are able to call the papyrus gonolek using a recorded bird call, it will come to the edge of the papyrus, otherwise, this papyrus endemic species is rarely seen. If you are lucky you might see a shoebill and in the rainy season the grey-crowned cranes breed and raise their fluffy chicks in the swampy areas of the valleys.
Lake Mburo is also home to a huge number of African fish eagles. There is a large variety of savannah and water birds including some spectacular species like Narina trogon, Ross's turaco, African green pigeon and the bare-faced go-away-bird often seen around Mihingo Lodge. If you ask one of our guides you can try and track one of the Narina trogons. When you hear their calls a guide can take you close to the area it is calling and with a bit of luck, you can spot this very elusive and beautiful little bird. With a recorded bird call it is quite easy to see them as they will come to see who has invaded their territory.